BIENVENUE CHEZ TOTO & NONO
* WELCOME TO TOTO & NONO *
Le 03 Octobre 2008
Aujourd'hui,
Placez vos Sims n'importe où grâce à des supports !
Immortalisez vos souvenirs de vacances !
Et offrez-vous des tables multicolores,
le mobilier de la Cité Interdite de Pékin,
et des œuvres d'Art de grands maîtres !
BON WEEK-END À TOU(TE)S, ET À LUNDI !
Today,
Place your Sims wherever thanks to supports !
Immortalize your souvenirs of holidays !
And offer yourselves multicolored tables,
the furniture of Forbidden City of Peking,
and great masters' works of Art !
HAPPY WEEKEND TO YOU ! NEXT UPDATE ON MONDAY !
INFORMATIONS / NEWS :
Sur The Sims 2,
Patch officiel "Les Sims 2 - La vie en appartement".
"The Sims 2 - Apartment Life" official patch.
PATCHS ET OBJETS HACKES / MODS AND MOD OBJECTS :
Sur Sims 2 Workshop,
Étagère de souvenirs par Carrigon.

Cet étagère permet de conserver trois souvenirs. Les Sims peuvent ensuite évoquer
des souvenirs, partager l'histoire de la découverte, regarder ou voler l'objet.
Souvenirs shelf by Carrigon.

This shelf allows de put three souvenirs on it. The Sims can after reminisce,
share discovery story, view or steal the object.

Sur Garden Of Shadows,
Supports transparents pour Sims par BakaSolo.
Ces supports transparents permettent de placer les Sims
sur les lits, comptoirs, tables, bureaux, canapés, voitures,...

À utiliser avec la boîte à poses "Custom Modeling Poses
Overlay Hack V2" de Decorgal.
OMSP for Sims by BakaSolo.
This OMSP allows to place Sims on beds,
counters, tables, desks, sofas, cars,...

Use this with the "Custom Modeling Poses
Overlay Hack V2" animbox by Decorgal.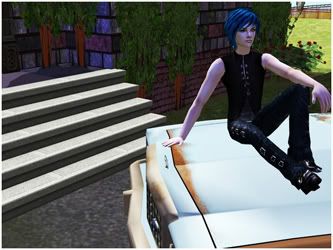 Fix pour le plafonnier "Lumos LunarTech" par Havelock.
Fix for the "Lunatech Lighten Up" ceiling lamp by Havelock.