Sur TheSimsResource,
Set "Breakfast Nook" par ~Monica~.
Avec table et chaises, buffet, plateau, bol, et tasses.
"Breakfast Nook" set by ~Monica~.
With table and chairs, sideboard, tray, bowl, and cups.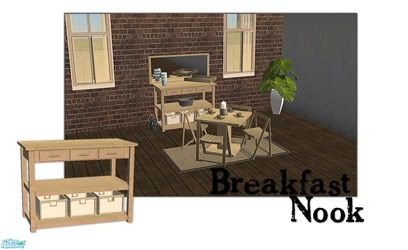 Nursery "Leyris" par Mirake.

Avec berceau et oreiller, mobile, table à langer, commode, étagère, rocking chair,
table de chevet, coussins, maison de poupée, jouets, souris, ourson, vase, cabanes
d'oiseaux, cabanes d'oiseaux suspendues, pull, T-shirt et vêtements suspendus.
"Leyris" nursery by Mirake.

With crib and pillows, mobile, changing table, dresser, shelf, rocking chair,
end table, cushions, dollhouse, toys, mousse, teddy bear, vase, bird houses,
hanging bird houses, cardigan, T-shirt and hanging clothes.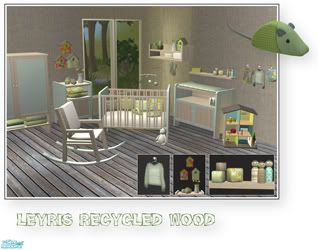 Salon "Coral Bay" par Arenaria.
Avec causeuse, fauteuil, applique, rideaux, deux tableaux, sol et papier peint.
"Coral Bay" living room by Arenaria.
With loveseat, armchair, wall lamp, curtains, two paintings, floor and wallpaper.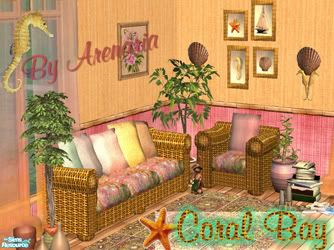 Consoles "Tally" (disponible en six versions différentes) par Xiomara (Simplan-x).
"Tally" consoles (available in six different versions) by Xiomara (Simplan-x).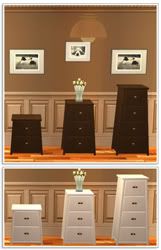 Sur Soul Glory,
Nombreux set de TheSimsResource.
Sevral sets from TheSimsResource.