Sur TheSimsResource,
Trois comptoirs de cuisine "Aeki" par Canuckdiva.
Three "Aeki" kitchen counters by Canuckdiva.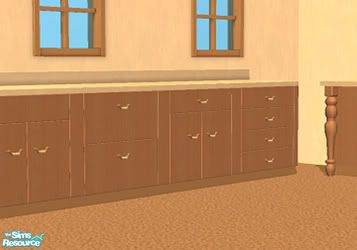 Salon "Burj" (Partie 01) (disponible en plusieurs versions différentes) par Senemm.

Avec canapé, table basse, télévision, colonne décorative, vase, et tableau.
"Burj" living room (Part 01) (available in several different versions) by Senemm.

With sofa, coffee table, television, decorative column, vase, and painting.
Chambre "Morjana" par Kibanahnah.
Avec lit doule, table de chevet, commode, coiffeuse, causeuse,
chaise décorative, table basse, lampe, flacons de parfums, bougie,
paravent, fontaine, miroir, rideaux, décoration murale, fenêtre, et colonne.
"Morjana" bedroom by Kibanahnah.
With double bed, end table, dresser, vanity table, loveseat,
decorative chair, coffee table, lampe, fragrance bottles, candle,
screen, fountain, mirror, curtains, wall decoration, window, and column.
Set d'extérieur "At The Dock" par ~Monica~.
Avec table et chaises, comptoir, chaise longue, table de chevet, et rames.
"At The Dock" outdoor set by ~Monica~.
With table and chairs, counter, lounger, end table, and oars.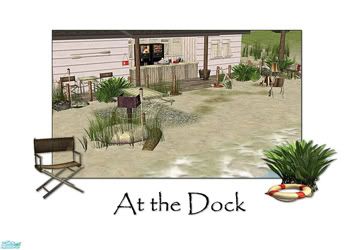 Set d'extérieur "Luv" par RICCI2882.
Avec causeuse, table basse, verres, lampe, plante, et barrière.
"Luv" outdoor set by RICCI2882.
With loveseat, coffee table, glasses, lamp, plant, and fence.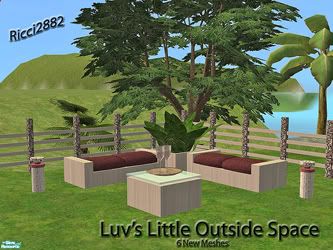 Boîtes décoratives (disponible en sept coloris) par Living Dead Girl.
Decorative boxes (available in seven colors) by Living Dead Girl.