Sur Artistic Sims,
Petite bibliothèque murale (disponible en quatre coloris) par Line.
Small wall bookcase (available in four colors) by Line.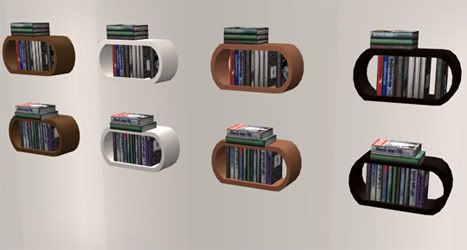 Sur Avalon,
Ensemble tableau + horloge décorative (disponible en nombreuses versions) par OM.
Painting + decorative clock set (available in several versions) by OM.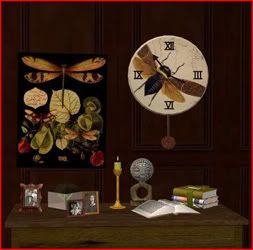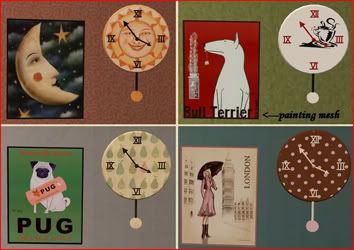 Sur Blacky's Sims 2 Zoo,
Deux barrières en bois (ici et là) par Speedymaus22.
Two wooden fences (here and there) by Speedymaus22.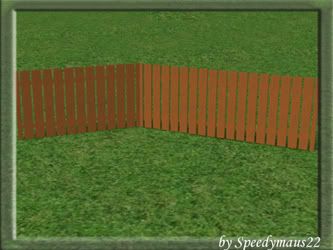 Sur Meshkiste,
Bureau en chêne par Birgit43.

Cet objet nécessite "Quartier Libre".
Oak desk by Birgit43.

"Free Time" required.
Sur Sapphire Sims 2,
Table de chevet à tiroirs par Book-em-Peg.
End table with drawers by Book-em-Peg.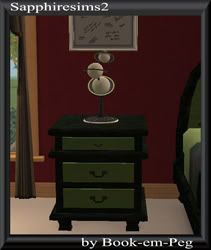 Sur Simcastic Design,
Tableaux de fleurs par SusanJoan19.
Flowers paintings by SusanJoan19.
Sur Simnuts Creation,
Portes et arches "Colonial" de un et deux étages
(assorties à celles du jeu original) par Simnuts.

Les portes et arches de deux étages nécessitent "Académie".
One and two stories "Colonial" doors and arches
(matched with the original game ones) by Simnuts.

"University" required for the two stories doors and arches.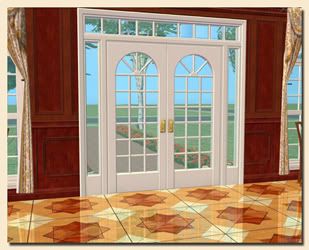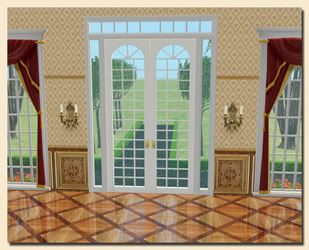 Sur Sims Divine,
Commode "Leaf Design" (assortie à la chambre "Leaf Design") par Mummysim.

Cet objet nécessite "Bon Voyage".
"Leaf Design" dresser (matched with the "Leaf Design" bedroom) by Mummysim.

"Bon Voyage" required.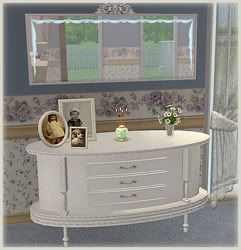 Vous avez un site sur Les Sims et vous désirez nos faire part de vos mises
à jour ? Ecrivez-nous à cette adressse : updates@toto-et-nono.com.
You have a site about The Sims and you wish to announce us your updates ?
Write us at this adressse : updates@toto-et-nono.com.
LE T&N MUPPET

(Cliquer sur l'image pour l'agrandir)
BON JEU ET BONS TELECHARGEMENTS !...
HAPPY SIMMING !...
Accueil NEWS OBJETS SIMS 2
Accueil TOTO-ET-NONO.COM