Sur Elite Sims Builders,
Panier d'œufs multicolores par Amaris.
Basket of multicolored eggs by Amaris.
Sur Holy Simoly,
Quatre œufs en chocolat décoratifs par Flem and Shtinky.
Four decorative chocolate eggs by Flem and Shtinky.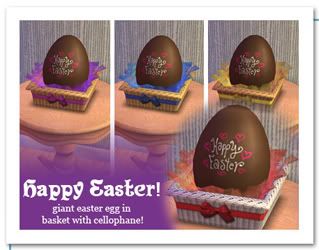 Sur Natural Sims,
Mobiles Papillons par Rgdyanne.

Ces objets nécessitent "Quartier Libre".
Butterflies ceilings by Rgdyanne.

"Free Time" required.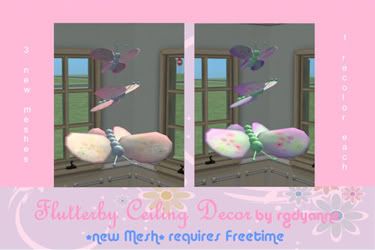 Sur RedDiamonds,
Reproduction d'une chaise longue de Mies von der Rohe
(disponible en quatre versions différentes) par Zaubi.
Reproduction of a lounge chair of Mies von der Rohe
(available in four different versions) by Zaubi.
Sur Simcastic Design,
Berceau en bois par Angelsways1.
Wooden crib by Angelsways1.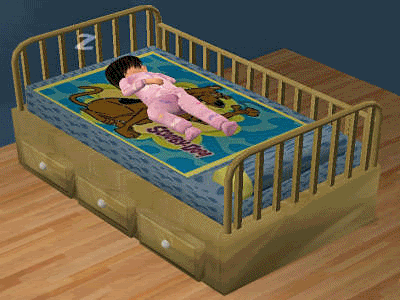 Sur Sims 2 Play,
Lits doubles "Lugano", "Naya", "Ottomano" et "Heimdal" ;
et étagère "Day Life", par Shoukeir.

L'étagère nécessite "Bon Voyage".
"Lugano", "Naya", "Ottomano", and "Heimdal" double beds ;
and "Day Life" shelf, by Shoukeir.

"Bon Voyage" required foer the shelf.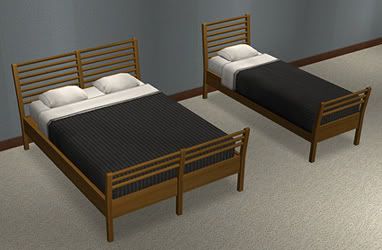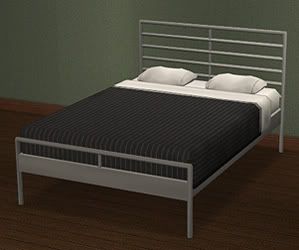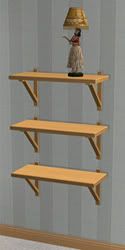 Sur Sims2-FeeEssen,
Livre d'O.J. Simpson par FeeEssen.
O.J. Simpson book by FeeEssen.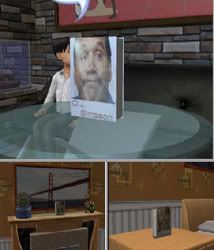 Sur Sims 2 Passion,
Lit double "Doux Rêves" par Loulou87.
"Sweet Dreams" double bed by Loulou87.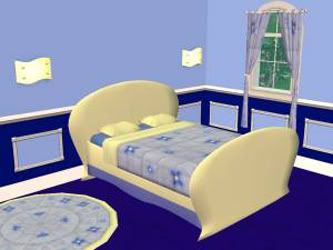 Sur Blacky's Sims 2 Zoo,
Rideaux d'un carreau "Sauthsea" par MysticVelvet.
"Sauthsea" one tiled curtains by MysticVelvet.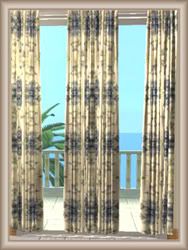 TSF (radio fonctionnelle) et ensemble de salon recouvert de draps par Thunderwitch.
TSF (usable radio) and living set covered with clothes by Thunderwitch.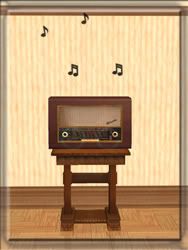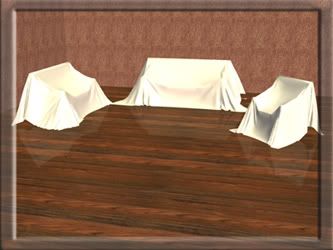 Set de tapissier, set de scierie, établi de bricolage,
outils, et placards de cuisine, par Speedymaus22.
Tapestry set, sawmill set, workbench,
tools, and kitchen cupboards, by Speedymaus22.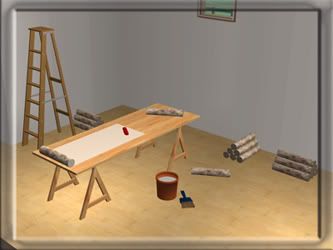 Vous avez un site sur Les Sims et vous désirez nos faire part de vos mises
à jour ? Ecrivez-nous à cette adressse : updates@toto-et-nono.com.
You have a site about The Sims and you wish to announce us your updates ?
Write us at this adressse : updates@toto-et-nono.com.
LE T&N MUPPET

(Cliquer sur l'image pour l'agrandir)
BON JEU ET BONS TELECHARGEMENTS !...
HAPPY SIMMING !...
Accueil NEWS OBJETS SIMS 2
Accueil TOTO-ET-NONO.COM