Sur Blacky's Sims 2 Zoo,
Set d'extérieur "Remo" par Manuela10669.
Avec table et chaises, et parasol.
"Remo" outdoor set by Manuela10669.
With table and chairs, and sunshade.
Salon "Southsea" par MysticVelvet.
Avec causeuse, fauteuil, tables basse et de chevet, buffet, placard, vitrine,
lampes en pied et de table, plante, cadre-photos, tableau, rideaux, tapis, et papier peint.

Ce set nécessite "Nuits de folie", "La bonne affaire", "Animaux & Cie", et "Jour de fête".
"Southsea" living room by MysticVelvet.
With loveseat, armchair, coffee and end tables, sideboard, two cabinets,
floor and table lamps, plant, photos-frame, painting, curtains, rug, and wallpaper.

"Nightlife", "Open for business", "Pets, and "Celebrations" required.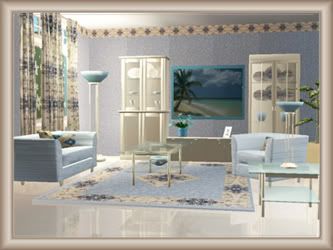 Sur EsseTiSims Royale,
Nursery "Daisies" par Esse.
Avec berceau, table à langer, table et chaises,
table et lampe de chevet, et coffre à jouets.
"Daisies" nursery by Esse.
With crib, changing table, table and chairs,
end table and table lamp, and toybox.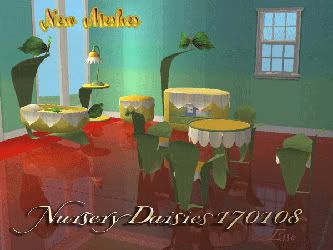 Sur Simaholics R Us,
Salon "Attitude" (disponible en trois versions) par EarthGoddess54.
Avec canapé, causeuse, fauteuil, pouf, table basse, télévision,
lampe de table, plante, rideaux, et tapis.
"Attitude" living room (available in three versions) by EarthGoddess54.
With sofa, loveseat, armchair, pouf, coffee table, television,
table lamp, plant, curtains, and rug.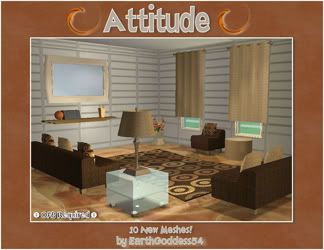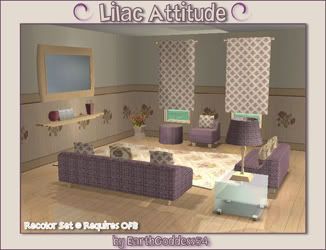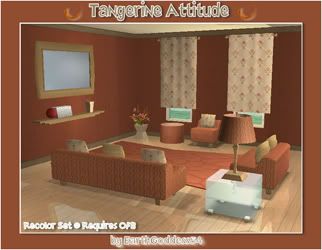 Sur Simcredible,
Chambre "Terracota" par WhiteShark.
Avec lit double et couverture, oreillers, table et lampe de chevet,
table basse, commode, tableau, et stores.
"Terracota" bedroom by WhiteShark.
With double bed and bedding, pillows, end table and table lamp,
coffee table, dresser, painting, and blinds.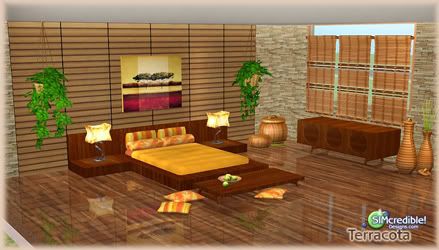 Sur Simsecret,
Salon "Newport" par Amel.
Avec canapé, table basse, bibliothèque, et bougies.
"Newport" living room by Amel.
With sofa, coffee table, bookcase, and candles.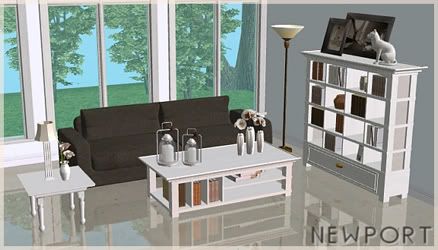 Sur Vitasims,
Cuisine "Victoria" complète.

Ce set nécessite "Académie".
Complete "Victoria" kitchen.

"University" required.