Sur TheSimsResource,
Etagère murale par Simmyfan2852.

Cet objet nécessite "La bonne affaire".
Wall shelf by Simmyfan2852.

"Open for business" required.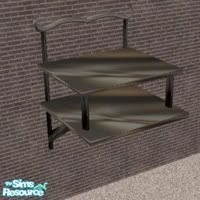 Sculpture en marbre par Dr. Macabre.
Marble sculpture by Dr. Macabre.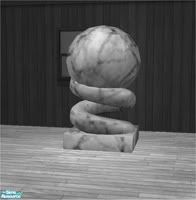 Portes western en bois par Cat3cm.
Wooden western doors by Cat3cm.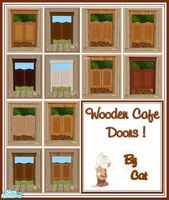 Causeuse et fauteuil "Futonesque Fantasy" par MsBarrow.
Loveseat and armchair "Futonesque Fantasy" by MsBarrow.
Sur Tollis SimGedöhns,
Set de construction par Torsten.
Avec portes, portes de toilettes, arches, fenêtres, et portes de garage.

Les portes de garage nécessitent "Nuits de folie".
Build set par Torsten.
With doors, restroom doors, archs, windows, and garage doors.

"Nightlife" required for the garage doors.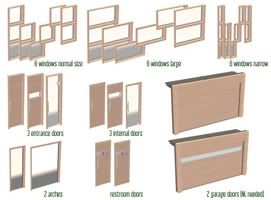 Sur Sims2-FeeEssen,
Carrotte cosmétible, fontaine, et barrière en bambou, par FeeEssen.

La fontaine nécessite "Académie".
Edible carrot, fountain, and bamboo fence, by FeeEssen.

"University" required for the fountain.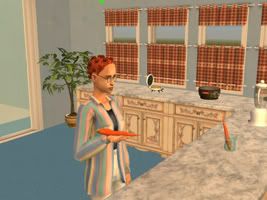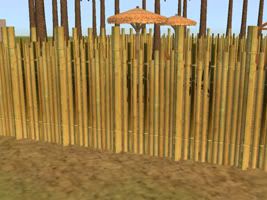 Sur Sapphire Sims 2,
Lits doubles "tigre" par Tish85.
"Tiger" double beds by Tish85.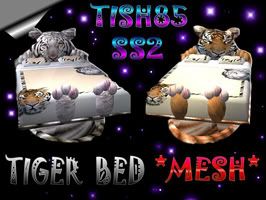 Sur Andu's Sims 2 Archiv,
Lit double "Romance" par Andu Samar.
"Romance" double bed by Andu Samar.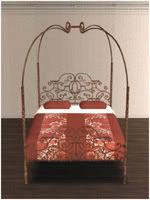 Sur Vamp Life,
Alarme anti-vol.
Burglar alarm.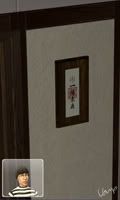 Sur Enchanted Forest,
Sculpture en forme de croix par Enchantress.
Cross sculpture by Enchantress.
Sur Sims2Center,
Elfe et stéréo en forme de danseur par Arnow.

La stéréo risque de ralentir votre jeu.
Elf and dancer stereo by Arnow.
The stereo may slow down your game.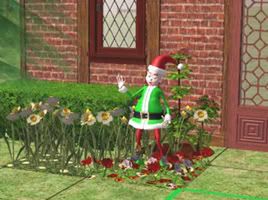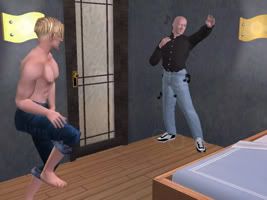 Sur Sims Mod Board,
Frigo avec la possibilité de placer trois objets dessus,
petit frigo avec tous les plats disponibles,
étagères, plafond, peluche, télévision, et lampes.

Les frigos nécessitent "Académie", "Nuits de folie",
"Animaux & Cie", et "Au fil des saisons".
Fridge with three slot on it,
small frigde with all meals available,
shelves, ceiling tiles, cuddly toy, television, and lamps.

"University", "Nightlife", "Pets" and "Seasons"
required for the fridges.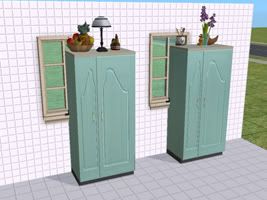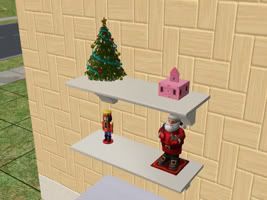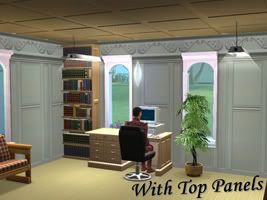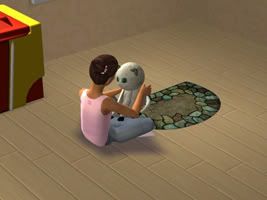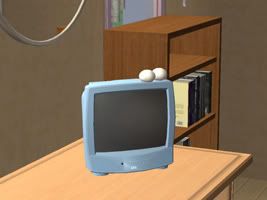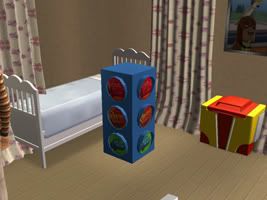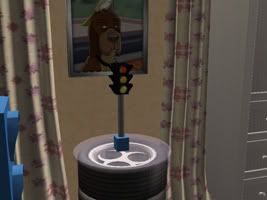 Sur Insimenator,
Table et chaises, et table basse, par BeosBoxBoy.
Table and chairs, and coffee table, by BeosBoxBoy.