Sur Simplan-x,
Set d'extérieur "Summer Sun" par Xiomara.
Avec chaise, tabouret, relax, et table basse.
"Summer Sun" outdoor set by Xiomara.
With chair, stool, lounger, and coffee table.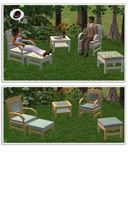 Sur TheSimsResource,
Salon moderne par Huabanzhu.
Avec canapé, table basse, bibliothèque, lampe, et tableau.
Modern living room by Huabanzhu.
With sofa, coffee table, bookcase, lamp, and painting.
Chambre "Midnight Serenade" par Detimgi.
Avec lit double et couverture, table de chevet, armoire, et sol.
"Midnight Serenade" bedroom by Detimgi.
With double bed and bedding, end table, armoire, and floor.
Sur Meshkiste,
Chambre rouge avec cœurs par Hanne.
Avec lit simple et table de chevet.
Red bedroom with hearts by Hanne.
With single bed and end table.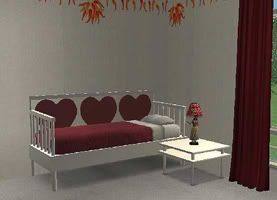 Sur Pimp my Sims,
Chambre "Cleo" par Funny.
Avec lit double, table de chevet, armoire, buffet, et plafonnier.
"Cleo" bedroom by Funny.
With double bed, end table, armoire, sideboard, and ceiling lamp.
Sur Sims Mod Board,
Chambre "Katys Flower Garden" par Hopebayler.
"Katys Flower Garden" bedroom by Hopebayler.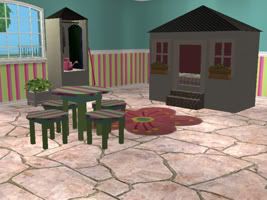 Chambre pour enfant "Baseball" avec compléments par Rebecah.
Assortie à sa nursery "Baseball".
"Baseball" child bedroom with additions by Rebecah.
Matched with her "Baseball" nursery.
Salle à manger boisée par Katy_76.
Ave table, chaises, et banc.
Wooded dining room by Katy_76.
With table, chairs, and bench.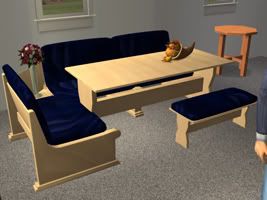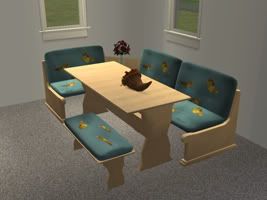 Salle à manger "Ryan Formal" par SwtNess2 et Hopebayler.
Avec table, deux chaises, buffet, vaisselier, vase,
tapis, plafonnier, rideaux, et quatre tableaux.
"Ryan Formal" dining room by SwtNess2 and Hopebayler.
With table, two chairs, sideboard, china cabinet, vase,
rug, ceiling lamp, curtains, and four paintings.