BIENVENUE CHEZ TOTO & NONO
* WELCOME TO TOTO & NONO *
Le 11 Mai 2007
Aujourd'hui,
Prenez l'avion ou faites un tour de petit train animé !
Dormez sous la tente autour d'un véritable feu de camp !
Offrez-vous des sacs à main et des oiseaux téléguidés !
Et découvrez des packs à thèmes et notre "Supplément Coiffure" !
BON WEEK-END, ET A LUNDI !
Today,
Take the plane or make a tour of small animated train !
Sleep under the tent around a real campfire !
Offer yourselves some handbags and radio-controlled birds !
And discover some theme packs and our "Hairstyles Bonus" !
HAPPY WEEKEND ! NEXT UPDATE ON MONDAY !
PATCHS ET OBJETS HACKES / MODS AND MOD OBJECTS :
Sur ModTheSims,
Etang invisible pour la pêche par Netmicro.
Ce rectangle invisible permet de pêcher n'importe où.

Cet objet nécessite "Au fil ds saisons".
Fishing invisible pond by Netmicro.
This invisible rectangle allows to fish everywhere.

"Seasons" required.
Pistolet avec laser et pistolet biologique par Wintermuteai1.
Ces armes tuent les Sims.
Gun with laser and biological gun by Wintermuteai1.
This weapons kill the Sims.
Sur Simsky,
Tableau pour petit enfant par Dave Luv.
Ce tableau permet aux petits enfants d'apprendre instantanément
à marcher, à parler, et à utiliser le petit pot.
Toddler painting by Dave Luv.
This painting allows toddlers to learn immediately
to walk, to talk, and to use the potty.
NOUVEAUX PLATS / NEW MEAL :
Sur ModTheSims,
Sur Sapphire Sims 2,
Gâteau en forme de rose par Tish85.

Ce plat nécessite "La bonne affaire".
Rose cake by Tish85.

"Open for business" required.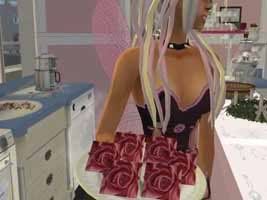 ACCESSOIRES / ACCESSORIES :
Dans le jeu, les accessoires se trouvent dans le menu "Lunettes".

The accessories are available in the "Glasses section" of the game.
Sur Divino Sims 2,
Quatre sacs à main.
Four hand bags.