Sur Around The Sims 2,
Rue de Paris par Sandy.
Avec abri-bus, bus-stop, plan de métro, lampadaire de métro,
deux poubelles, colonne Morris, plaque de rue, deux stands
de bouquiniste, caisse, boîte, panneau lumineux, et coupole.
Street of Paris by Sandy.
With bus shelter, bus-stop, Métro map, Métro street lamp,
two trash cans, Morris Column, street name, two second hand
books stands, cash register, box, street sign, and dome.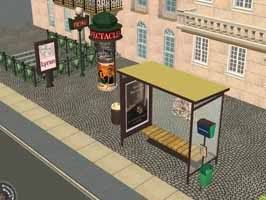 Sur Dh-Sims-Site,
Set égyptien (Partie 03) par Dincer Hepguler.
Avec chaise, causeuse, table basse, sphinx, pyramide,
masque de Toutankhamon, et deux bas-relief.
Egyptian set (Part 03) by Dincer Hepguler.
With chair, loveseat, coffee table, sphinx, pyramid,
Tutankhamon mask, and two "bas-relief".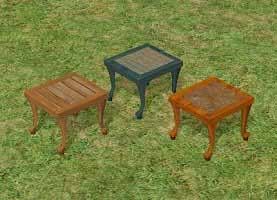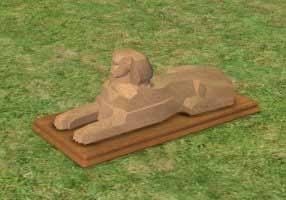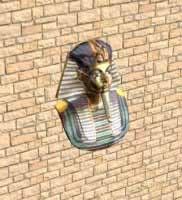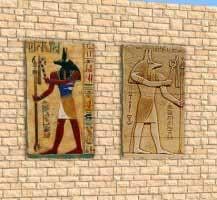 Sur Sims Divine,
Salle à manger égyptienne par Sandy.
Avec table et chaises, relax, buffet, bougies,
bol, deux plantes, tableau, sols et papiers peints.
Egyptian dining room by Sandy.
With table and chairs, lounge, sideboard, candles,
bowl, two plants, painting, floors and wallpapers.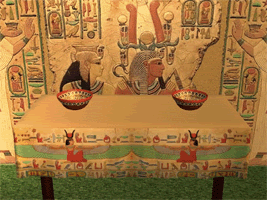 Sur Tarox,
Salon "Country Home" par Taroo.
Avec canapé, causeuse, fauteuil, table basse,
trois tables de chevet, étagère, bougies, rideaux, et tableau.
"Country Home" living room by Taroo.
With sofa, loveseat, armchair, coffee table, three end tables,
shelf, candles, curtains, and painting.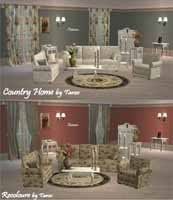 Sur Simcredible,
Nursery "Lullaby".
Avec berceau, table à langer, chaise haute, petit pot, commode,
chaise, table de chevet, jouet, fleur, et tableau.
"Lulluby" nursery.
With crib, changing table, high chair, potty, dresser, chair,
end table, toy, flower, and painting.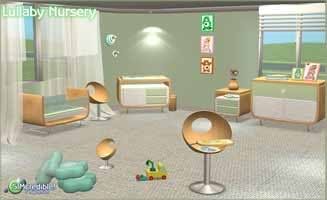 Sur Stylist Sims,
Salle de bains moderne.
Avec baignoire, douche, lavabo, miroir, placard, étagère, et tapis.
Modern bathroom.
With bathtub, shower, sink, mirror, cabinet, shelf, and rug.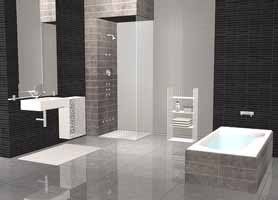 Sur PG-Sims,
Salle à manger boisée par PG.
Avec table et chaises, buffet, et plafonnier.
Wooded dining room by PG.
With table and chairs, sideboard, and ceiling lamp.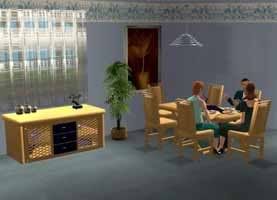 Sur Avalon,
Chambre de garçon par Steffor.
Avec lit double, causeuse, table basse, lampe en pied, boîtes, monocycle, sac et skate.
Boy bedroom by Steffor.
With double bed, loveseat, coffee table, floor lamp, boxes, unicycle, bag and skateboard.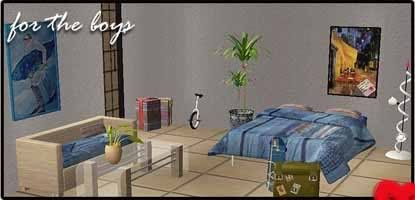 Sur Ella Sims,
Set d'extérieur "Eden" par Ella.
Avec cinq fauteuils, table basse, et tente.
"Eden" outdoor set by Ella.
With five armchairs, coffee table, and tent.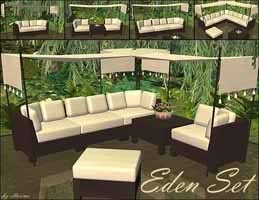 Sur Sims Mod Board,
Chambre d'enfant "Baseball" complète par Rebecah.
Complete "Baseball" child bedroom by Rebecah.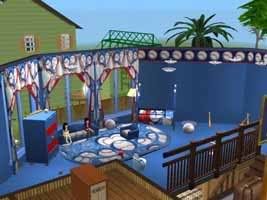 Chambre pour enfant "Dino Safari" complète par Hopebayler.
Complete "Dino Safari" child bedroom by Hopebayler.